We've been on the road north for a couple of hours (left about 8:15 a.m.)
As we were departing, we passed Sherry, Diane, Shelly, Linda and Ron on their morning walk. It felt like they were "seeing us off" and I couldn't help but think that it was a good way to start our trip back to Michigan.
I don't know which place to refer to as "home."
We arrived in Florida on October 6th. Here it is May 6th, and we'll leaving to go back the Great Lakes State. That means 213 days in Florida and 152 in Michigan. When in Michigan, we will spend time away from home. (About 13 days at the ODPC Funfest, a day at White Lake, 3 days in Gladwin at Carriage Days, and possibly some time in the U.P. That gives a total of 152 days in Florida and approximately 128 days in our Michigan house.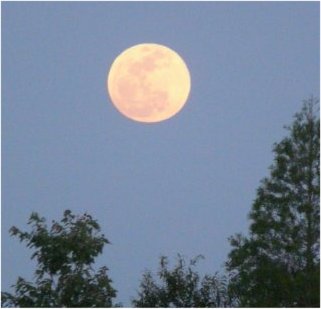 Last night we attended a Kentucky Derby Party presented by the Michigan Club. It was a nice evening.
When we got home we finished our packing. At about 8:05, we hopped on our golf cart and went out to look for the "super moon" which had been hyped as the biggest, brightest moon for 2012. Found a nice place to take photos without the clutter of condos.
After finishing up a few last minute packing chores, we turned in early.
I didn't sleep well. From about 2:30 until 5:30, I was awake. I realized I was coming down with a cold. I was stuffed-up and miserable. Today I still have all the symptoms. It's either a cold or bad allergies. Guess I can be miserable while riding back to Michigan just like any other place. At least here, if I'm sick, I don't feel as if I'm missing fun.
Permalink Comments off