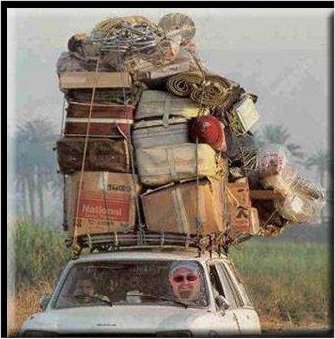 We're nearly ready to head south. Tomorrow night at this time, we hope to be in Clinton, TN.
Packing is a science. I started a couple weeks ago, but the final stuff won't go in until tomorrow morning.
The past couple of days, John's been packing the truck. We sure take a lot. We have instruments (banjo, sax, hammered dulcimer, autoharp, ukulele and marimbula), 25 gallons grape juice to be made into wine, a bike on a back rank, clothes, and lots of miscellaneous stuff.
We definitely resemble picture. Loaded to the max.
I look forward to the 1,300 mile trip. It's fun to spend two days beside my husband. A great time to chat and enjoy the scenery.
Saturday night we hope to enjoy a lovely dinner and stay in a nice motel. Sunday, provided everything goes according to plan, we'll pull into our condo at about 7:30.
It's an adventure! And when we get to Florida, the adventure will continue. What an awesome life!
Permalink Comments off