Half of today was spent with my mother in the outpatient facility at the local hospital. She needed an ultrasound test so I accompanied her.
All went smoothly although I don't have the results of the test.
I picked her up at about 8:30 and we rode her facility's bus to the outpatient center. We had quite a wait.
I noticed she was looking at me closely and I asked her if anything was wrong. She said "no" but I asked if maybe she'd like to fix my hair for me. She took my comb and fussed with my hair like I was a child. Mom doesn't remember a lot, but those old memories are sometimes there. It felt good to let her be my mother. Our relationship is obviously reversed, but for that moment, I was her little girl again.
====
Tomorrow night we're going to see the '60's group, The Temptations, at the main clubhouse. It's also supposed to warm up into the mid-70's so we'll be at the pool all day. In fact, it appears that we'll have wonderful weather for the next week. We've had a few days of cool temps, so it'll be great to get back to the social center of Kings Point, the pool.
====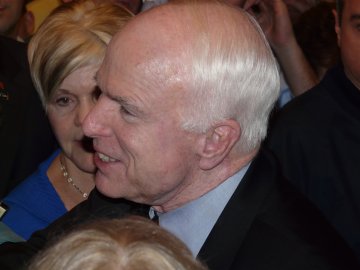 I haven't mentioned that Saturday we went to a John McCain rally. It's not that I'm a big fan of McCain, but I think my husband, John, is leaning that direction. (I'm totally undecided.)
It was interesting. The place was packed with loyal supporters. It was much better organized than what I witnessed back about 25 years ago when Jimmy Carter was running for re-election and visited Saginaw Valley State University (where I worked). Back then, we were given the day off. It was a mad house. People pushing and shoving. Security this time as much better.
I've been asked how McCain looked (older? younger?) I'd say he looked exactly as I'd seen him on TV. He was a good speaker. His answers were concise and impressive.
Permalink Comments off