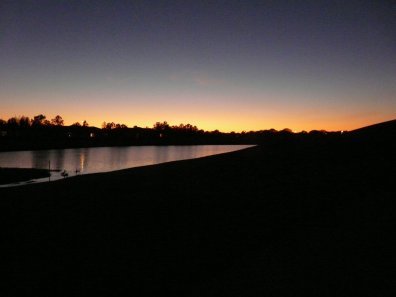 Last night we had an ok time at Rockin Rendezvous at the South Club. It was a karaoke night so we enjoyed watching folks do their thing. It was a cool night as we drove back, but I stopped and took a photo of the lovely scene.
Today it's warmed up a bit and over the weekend it's going to be into the 80's.
We finally had our phone service restored, but we've already decided to leave Speednet and go with Vonage. It'll still be a VoIP (voice over internet phone) but Vonage has lots of extra features and is a little cheaper. This past week has showed us how vulnerable we are with Speednet's phone service. At least with Vonage, we can do a lot from the internet such as: turn off voice mail, check messages, see who has called, change our phone to forward to our cell phone, have 911 service, and for less than $5 monthly get a second "virtual" phone for this area code so folks can reach us here without calling long-distance. It took me all morning to get everything straightened out and get it set up.
It'll take up to 10 days to move our regular Saginaw phone number to this number, but in the meanwhile, we'll be able to use the phone through Speednet. We're looking forward to those extra features.
Permalink Comments off