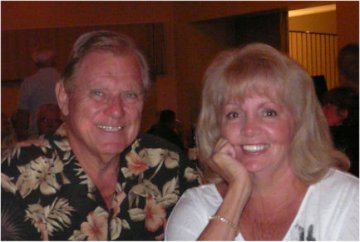 This year we have met lots of "new friends." Yes, we still adore Jean & Mel, Darlene & Gary, Sharon & Alan, Robbin & Terry, Mary & Ron, Rachael & Jerry, Brenda & John and all of the super nice folks we've met over the years including those Brenda & John introduced us to (mostly from Maine but also a fun Michigan couple). And then there are all of our Nantucket V friends (that's our home owners' association), and of course our wonderful long-time friends the Conklins. There are also "pool friends," John's new "pickleball buddies" and the "Rockin' Rendezvous crowd." They all make those activities fun.
But this year we got acquainted with Richard & Shelly, Carolyn & Stephen, Sharon & Ed, Lilly & Hank and all the fun folks we know from our country dance classes (including the instructors Bill and Donna). And recently we've gotten to know Linda & Ron, who are shown in the photo. They all make our stay here in Florida totally enjoyable. These new friends are super additions to our "circle." This is just a sampling of the folks who are important to us down here.
I didn't touch on those who are in the ballroom dance club nor our pool friends, nor our previous neighbors from the Fairfield association, and I could go on and on.
My plan for this season was to have a house party but the list of folks we'd need to invite keeps growing. I can't imagine having a party that didn't include them all. Our place wouldn't accommodate the crowd.
It's not that we are popular. It's just that the people we have met are so inclusive. They are totally approachable and caring. They make it easy to warm up to them. They invite and support you. They are what good folks should be but no where else have I found them.
One time I heard the definition of a good friend as someone who would loan you $10 in a pinch or come after you if you had car trouble. I actually feel that there are dozens who fit that description. Of course we don't plan to test them, but they'd be there for us, and we'd do the same for them.
Permalink Comments off