Unlike most women, I don't like to shop for clothes. I'm always disappointed by what I find and the whole process discourages me.
I'd much rather buy stuff on line and take my chances on how it fits. (Yes, I ship lots of stuff back and many items I buy on eBay end up being donated to my favorite thrift shops.)
But on January 4th, 2014, my grandson, Kris, is getting married at Hidden Valley in Carmel Valley, CA. I'll be leaving for California January 2nd. (John won't be going with me.)
The ceremony will start at 5 o'clock in the afternoon immediately followed by the reception. It's going to be a rather intimate outdoor wedding with about fifty guests and five bridesmaid/groomsmen couples.
The bride, Lauren, has created a website on weddingwire.com where she states, "The suggested attire is Semi-Dressy Casual. Men: Dress pants, button-up shirt with tie or bow tie. Women: Cocktail or Summer sun dress.."
Without success I've been trying to find something to wear to the wedding. I have recently purchased two new dresses – one is a hot pink but it's probably too youthful for the "grandmother of the groom" (plus it's a little more snug than I would like it to be) and the other (turquoise and green chiffon) just doesn't seem classy enough. I have been looking for something dressy that would also work for our big January SnoBall dinner-dance so it needs to be fun and not stoggy. (I rejected several jacket dresses because they looked like something an old lady would wear.) Today I went on line and determinedly searched. I ended up ordering the one below which I hope will work. (I'll know when it arrives from Overstock.com next week.)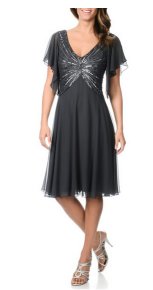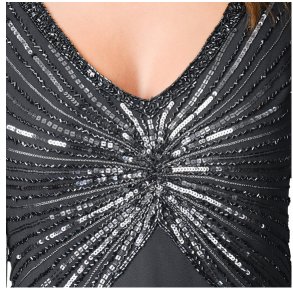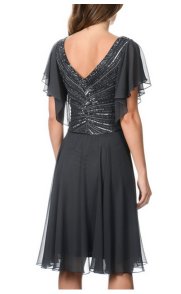 In the photos, it looks black but it's described as a deep gray. I have silver or black (sandal style) heels with about a 2″ heel and a small silver or black purse. (I'll decide when I decide what jewelry to wear.) Best part about the dress is that John likes it. If worse comes to worse, I have a burgundy, sleeveless, v-neck chiffon dress that I got a couple years ago, or I have a couple plain black dresses with jackets (but I don't like to wear black to a wedding). I hoped for something sort of sophisticated. This one is.
And, if I don't like it or what I have, I'll still have time to shop.
Permalink Comments off