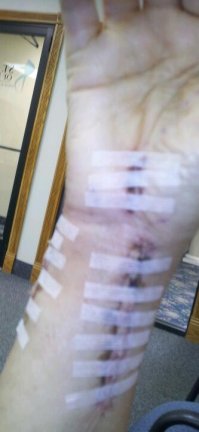 I've talked about my wrist a lot because it's controlled my life since I fell on July 11th, 2014.
My surgery was on July 21st (after the ODPC Funfest had ended because the surgeon said it wouldn't matter if I waited a few more days.) I was in the operating room for over 4 1/2 hours!
On August 5th, the bandages were removed. It wasn't pretty, as you can see on the left.
I started hand therapy on that day and until October 8th, I worked with Trisha, at St. Mary's Spine Center three times a week. We left for Florida on October 11th. I started working with Amber at Cora Rehab on October 15th.
Tomorrow (November 7th) I will end my wrist rehab. I'll need to continue my exercises on my own. I've assembled a variety of tools: stretchy rubber bands, putty to work with, a 6″ ball to squeeze and manipulate, foam pieces to offer resistance, a 26″ exercise ball to lie on for push ups from the floor and two 2-lb. weights to help my wrist gain strength.
Don't know if anyone is interested, but below are the x-rays taken October 1st, before I saw my surgeon. Dr. Taha, the last time. You can see the two plates and the 16 screws. (Actually we were charged for 24 screws, so I'm not sure how many there are.)
I'll be so relieved not to have to attend hand therapy. My therapists have been very nice but at this point I want to concentrate less on my wrist and more on living my life to the fullest. I definitely can't forget to keep working on my flexibility, but I will get a lot of exercise from what I do in my day-to-day life.