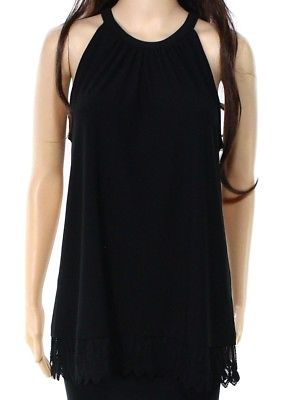 Last month I got rid of a lot of clothes that didn't fit or were antiquated. I vowed not to buy more but I do recognize that my "social" wardrobe needs up-dating.
Today on eBay, I bought a cute, black, (cheap), Alfani top (see the left photo). It was about $50 off the Macy's price. Actually with a proper matching pair of capris, pants, or a skirt, I think I can create a versatile, dressy outfit, so it'll be wearable lots of times.
Last week (again on eBay) I found some cute medium high sandal-style heels (brand: I Love Comfort) and a colorful, Arueh bright print dress with a lot of stretch (really nice, feels like high-end fabric.) It's the picture on the right side.
I don't need new items while in Michigan, but in Florida, I like a variety and these were all brand new and at rummage sale prices.
eBay also provided an opportunity to pick up a new battery for my Kindle Paperwhite. I've had the same old battery since I bought my Kindle in 2013 and it doesn't last like it did before. I haven't installed it yet because here in our house, I can keep my Paperwhite plugged in, but when I want to spend a long day at the pool in Florida, I'll need more battery life.


Earlier this summer on eBay, I did grab a couple of super cute bargain tops.. a Chico's water colored floaty top as well as one that's red cold-shoulder with fluttery ruffles on the sleeves.
I spent less than $100 total on EVERYTHING I've pictured or mentioned. John says I'm a cheap date. (Definitely not high-maintenance.) But from here on I vow I am going to avoid looking on eBay because what I have is more than significant for my needs both here and in Florida. I'm trying not to wear the new stuff very often until we head south so they'll be extra special for parties in Florida. I did wear the water colored floaty top to a dinner last week and received several favorable comments.
The activities and our friends in Florida are why I enjoy our life in the south so much… Lots of time to look our best.
We already know we'll be going to a bar-be-que on October 16th, the Michigan Club welcome back party on the 26th and a Baby Boomers Halloween party on the 28th. In November, we resume our weekly Thursday gatherings before Rockin' Rendezvous, a street party, and another Michigan Club party. I don't know yet how many holiday parties we'll attend in December but I know there'll be several (at least three that I'm aware of).
I'll soon wish I'd gotten more cheap clothes.