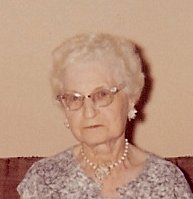 The other day, as I frequently do, I mentioned Grandma Brophey to John. He said I should write down my thoughts about her. She was the most influential person in my life. Someday no one will remember she even existed. She was special and deserves to have her story told.
Grandma Brophey was 77 years old when she died in 1963. Her full name was Clara Ann Chamberlain Brophey. Those 77 years represented a life that was remarkable.
The Chamberlains were one of the "founding" Midland families. As first settlers in the area, Grandma's grandfather had preached to the Indians.
She married Patrick Robert Brophey, about 1906. Grandpa had been married previously and had a daughter, Elizabeth. Elizabeth (aka Betty) was my father's mother. That meant Grandma Brophey was my father's step-grandmother. (Once, when I questioned her about not being related, she said she may not be related "by blood" but she was "by heart" which was much better.)
When my father was three, he came to live with his Grandma and Grandpa Brophey. She couldn't have children, so they raised my father as their son. At that time, they were well-to-do with a successful business and investments. They owned the biggest share of a city block in downtown Midland plus a couple of houses.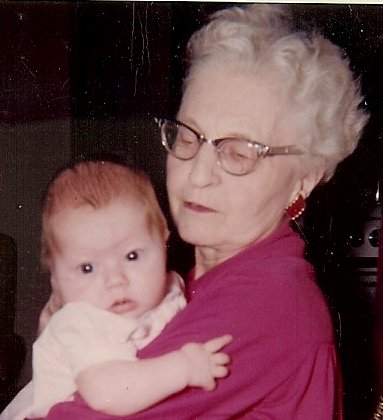 But the stock market crash of 1929 changed their status. Their problems were magnified because Grandpa Brophey was an alcoholic and a gambler. By the time I was born in 1942, they had lost their businesses and houses – most everything.
Grandma supported the family by doing sewing alterations. She would sew late into the night for the wealthy ladies in town. Once they'd been her peers (financially) but they'd lost all that. Nevertheless she had pride and was definitely "a quality lady" who earned the respect of all.
Everyone who knew her called her "Grandma." She was the kind of caring person who listened to a child, and spoke words of wisdom worth the attention of the most mature.
She took in unwed mothers and let them stay with her at a time when they were shunned. Grandma was a babysitter for the first black couple who moved into Midland (an unpopular role in a town that was 99.999% white). She was very involved with the Presbyterian Church, making their choir robes, teaching Sunday school, and sending "birthday cards" to every youngster in the congregation. She started a re-sale shop at a senior citizen residence facility (the Kings' Daughters). It's still on-going.
In the 1950's she was "adopted" by a Chinese couple so their children would have a grandmother in their new country. (I learned that I had to "share" her during the holidays so she could spend some time with those children too.)
Until I was a teenager, she made all of my clothes (and as a child, I had a complete wardrobe for my dolls long before a Barbie wardrobe was a requirement for a young girl). I was the best dressed youngster you can imagine. As an example, I remember a soft blue wool suit, lovely cape to match, and a navy tam to complete the outfit. (There are several pictures of me when I was about four wearing suits which I recall were all lined.) I remember being asked to "turn around" and display my ensemble by Mrs. Dow (of Dow Chemical Company).
Even with her limited finances, Grandma provided food and necessities for those with less. She was the best example of charity and giving.
I don't know how she did it financially, but she'd take me to Detroit once a year and we'd stay in the Tuller Hotel on Grand Circus Park so I could see and experience the "big city." That was always the highlight of my year. She'd bake lovely big sweet rolls (with fresh orange zest) which she'd pass out to the house-cleaning people at the hotel in lieu of a tip. I remember struggling to carry the suitcase from the "bus station" to the Tuller. It probably wasn't far, but it sure seemed like we walked forever and paying for a taxi was out of the question. While in Detroit, we'd go to Bob-Lo Island and visit the Vernors plant. I got to explore Hudson's glorious shopping mecca, and we'd dine at the Bonjo Grill.
One Mother's Day she was named "Mother of the Year" by the Midland Daily News. Yet this was a woman, who'd never given birth.
She was a caring, loving tiny lady; a beautiful white-haired fashion plate, who knew style and was ahead of her time.
She loved me more than anyone in my life and was always there for me to praise when I deserved it, or to show disapproval when I let her down. I remember when I was two or three and I'd spit toward another child. She gave me a minor swat at my rear end. I was shocked. Grandma had never raised a hand to discipline me! I was more surprised than hurt. We both cried.
She tried to teach me to tat, to crochet, to sew and I learned all of those crafts because of her instructions. Any good qualities I possess were probably because of her example.
The summer of 1956, she found a lump in her breast and had a very invasive mastectomy (back then, chemotherapy wasn't known). In late 1961, she had a heart attack and the cancer returned in 1962.
She passed away in 1963.
I still miss her and I still need her approval.