Sunday, August 21st, we went to the Detroit Tigers baseball game with George and Judy Horny.
The game was exciting to the very end. Only negative was that we were in the HOT sun without sunscreen and both got a little fried. Now I have a "farmer's tan" since I was wearing a short-sleeved tee shirt with a slightly scooped neck.
Stopped on our way home at Fuddruckers in Flint for a great burger.
Monday we packed up and headed to our place in the U.P.
We arrived mid-afternoon and found a real mess. Mice had gotten in so a lot had to be "scrubbed down." Also a spruce had come down in front of the deck. If the tree had been a foot or so taller, we would probably have had damage to our place, but as it was, we squeaked by.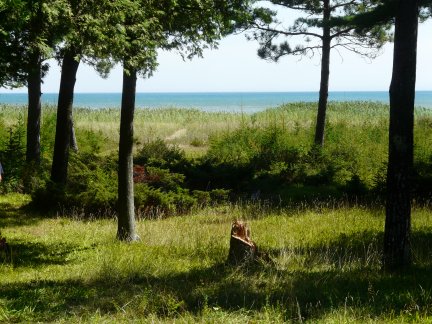 Yesterday (Tuesday), John managed to chop up the tree and work a little on mowing.
I finally went down to the water this morning. It was totally "over-grown" with cattails and over 6′ tall marsh grass. There's no beach. It's depressing. It used to be so lovely up here! We'd take our lounge chairs to the water's edge and stay there all day. It was heavenly. Thank heavens we have a deck because, from it we almost feel that it's still beautiful as you can see in the photo.
The stump in the center of the picture is where the tree was that came down. Actually it gives us a better view with it gone.