It's my understanding that the shade-producing live oak trees which we find all over Kings Point are there because of an agreement.
When Del Webb developed Sun City Center, he took a swampy wet-land area and drained it. Of course, there were many ecological concerns. Mr. Webb was granted permission provided he would plant "live oaks" which were considered "native" vegetation.
The area is heavily planted with these trees which are generally festooned with Spanish moss.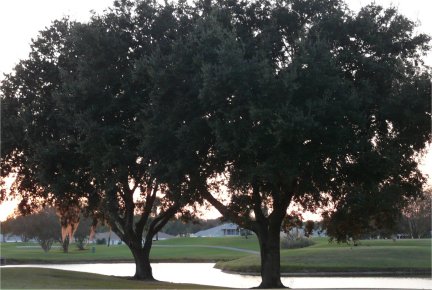 So what's the problem?
Well, in the spring these trees produce massive amounts of yellow pollen, and they're a very "dirty" tree dropping lots of little leaves and at one time during the season, lots of acorns. We blow away the leaves, we sweep up the acorns, but the pollen is out of our control. It causes severe allergies and covers everything, including our vehicles, with yellow "dust."
I found the following information explains why we view the shady oak trees as a mixed blessing.
Quoting http://www.allergy-associates.com/?p=179
Oh, those bloomin' Florida oak trees . . .easy to love, but so tough to live with
Posted on February 24, 2012 by Stephen J. Klemawesch, MD
If you live in Florida you might develop paranoia about oak trees and allergy. Our prodigious oak tree population accounts for the most severe form of our pollen seasons – spring tree season.
They also provide a home for a special type of fire ant that can drop down on people to sting them. Finally, they can also be a source of Pyemotes herfsi, the oak leaf itch mite. This mite belongs to the biological class Arachnida (which includes all spiders), and to the subclass Acarina. All of the members of this class have 8 legs. Unlike spiders, however, these mites are extremely small – 0.2 millimeters – and are difficult to see with the naked eye.
They fall off the oak leaves on to unsuspecting people and cause a bite that is extremely itchy. The resultant rash is a red, raised area about the size of a mosquito bite, but with a tiny central pustule or blister.
The agreement to save the mighty oak allowed Mr. Webb to develop the area. Now we're stuck with them.