This past weekend we got together with a group of Florida friends (who have condos in our Florida paradise community, Kings Point). This group also lives at least part time in Michigan.
On Friday, we gathered at the homes of Caroline & Stephen Cooper and Richard & Shelly Brooks in White Lake, Michigan. The Coopers and Brooks have lovely homes on Cedar Island Lake. We gather annually around the Fourth of July. This was our fourth year!
We arrived on Friday about 1:00. (Fireworks were scheduled earlier than usual.) First stop was Cooper's for really great lunch. We had lots of liquid refreshments, went swimming/floating/soaking, lounging, sun bathing, and playing games. It was all fun. Oh, and we talked and talked and talked!!
The crowd consisted of Sharon & Dave, Sherry, Diana, Deb, Cindy & Mike, Valerie, Caroline & Stephen, Richard & Shelly, Linda (who came from Florida for the weekend) and John & me. Fifteen friends who were a perfect fit. Considerate, reliable, caring, fun folks!
That first evening (Friday), we convened at the Brooks' house for dinner, a pontoon ride, and then the remarkable fireworks. After the fireworks finished, we were too. We crashed and slept like logs.
Saturday, our breakfast at the Coopers was excellent. More all-day relaxing. Not as much sun, but lovely temperatures.
The guys did some kayaking. We relaxed and played games. By late afternoon we'd ordered restaurant prepared broasted chicken added to left overs from Friday. An evening boat ride was fun for all of us who remained. We finished off the night with a campfire and 'smores.
Sunday morning we had breakfast prepared by Shelly and Cindy. We headed home soon after eating and after lots of hugs and affectionate good-byes. We are now back at our Michigan home. We're pooped but wouldn't have missed it for anything.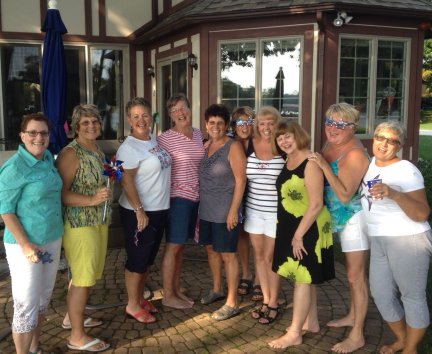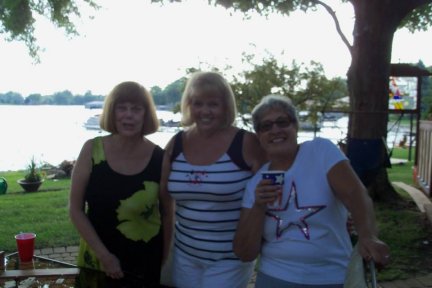 Thanks, Caroline & Stephen and Shelly & Richard. Love you all!! And Linda, thanks for making the trip. It was even more fun with you with us.