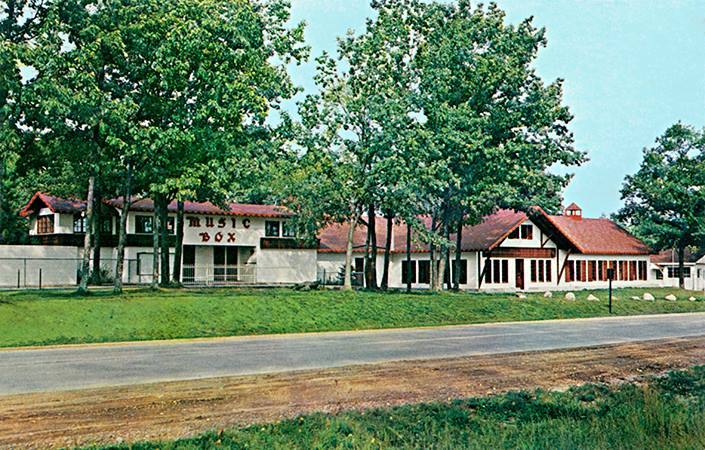 Yesterday I joined a Facebook group called "Music Box -Houghton Lake -Michigan." A lot of this post was taken from my introduction to the Music Box Facebook group.
I was a "regular" at "The Box" from about 1957-1960. The Music Box was an outdoor dance hall in Prudenville, Mi. Thousands would line up on Saturday nights. In the winter it moved into an adjacent smaller indoor room. For many years, I NEVER missed a Saturday night at "The Box." I have so many memories. It was a long drive from Midland to Prudenville, but it was my obsession.
There was an attitude which defined Box regulars. The summer crowd of over 5,000 enjoyed the popular recorded music played by Shirley with support from Lee, her husband. Being a Box regular made you "cool" in the eyes of those from your hometown.
As a Midland girl, I remember dancing with guys from all over Michigan and many out-of-staters.
I fell in love at the Box (several times), had my heart broken at the Box (more than once). The Box shaped me. Summer and winter, I was there.
During the winter months, my favorite way to spend Saturdays was to go skiing at Skyline Ski Resort and then come over to The Box. I remember the ceilings in the winter area were really low which made it quite humid, especially since lots of snow got tracked in. The crowd during the winter months was a fraction of the huge summer crowds.
I had a best guy buddy (John Whitman from Midland) who gave me a ride a lot of the time.
Through The Box, I met dozens of fun kids. Since I wasn't a "local," I never got to be friends with many of the girls, but I sure remember the guys. A lot of the fellows were college age (older than I was).
My favorite dance partner was a guy named Pete. He lived in the Freeland area and was beyond awesome on the dance floor. (He was a drummer who made a big name for himself as a professional musician so it's no wonder he had a great beat.) Pete wants me to help him write a book about dancing in the 1950's. I haven't agreed, but a lot would be about The Box.
And after The Box, when I didn't have to hurry home, I enjoyed Geni's Pizza in Prudenville. In fact, other than a Chef Boyardee you-bake-from-a-box pizza, I'd never had pizza until I went to Geni's. The cheese was the really stretchy kind that would make long "ropes" when you took a bite. I didn't realize that the meat was called sausage instead of pepperoni, but whatever it was, I loved it.
I'm now a 75-year-old snowbird spending winters at our condo in Sun City Center, Florida, and summers at our Michigan home on a little lake west of Saginaw between Hemlock and St. Charles.
All my teen experiences centered on "The Box."
I've lost touch with all my friends from that era and often wonder if I'm part of their pleasant teenage memories centered on "The Box."
I mentioned my time at "The Box" in a 2010 blog post:
Earlier Post on My Blog
In that post, I mentioned that one of my old boyfriends, Mike Cauchy, had died. When I dated Mike, we went "steady" two separate times. Each time lasted less than a week because I broke up with him to go to The Box. Yup, The Box was that important to me.
Permalink Comments off