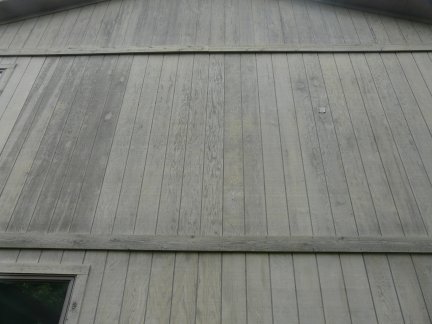 A couple of weeks ago (just before we went to Evart), John ordered nearly $6,000 worth of siding to replace the exterior of our house. We've lived here for 23 years and the siding has always presented problems. It was what's called T111 siding. It is basically plywood and looks like vertical siding. It may have been ok back in the late 1980's when we built the house, but it's required plugs (where the siding had knots), and painting/staining. Another real problem has been that woodpeckers love the bugs that hide out in the channels under the main layer. Therefore we have little holes in rows going horizonally across our house. It's almost like a row of machine gun shots. John's filled them, but that results in an unappealing stripe. Also the paint on the siding has faded creating dark panels. You can see the discoloration in my photo above.
This early summer, John converted a small covered porch behind our garage to a storage area. At that time, we needed to match the siding on the addition to make it look like it really fit the house. But putting more of the T111 siding just didn't sit well with us. We hated it. Not only that, but T111 siding wasn't availabile any longer.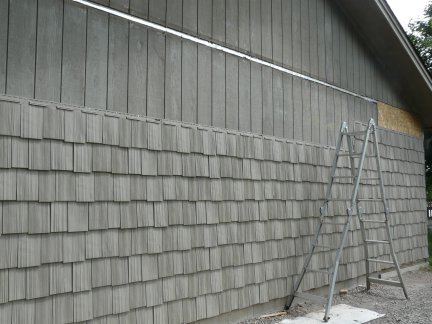 So we decided to go with vinyl 9″ shakes (in natural clay). Now our small project has become a project that involves the whole house.
It's a big investment but we think it'll add value to our house. We've already replaced the roof with roofing shingles which should last through our lifetime and once we finish this, we plan to revamp the kitchen completely and add hardwood floors in great room, dining room, kitchen and half bath. We may even re-do the master bath and enlarge our closet. When all projects are complete, we want our house to be what we want. (Besides life is best when you have things you're "looking forward to.")
So today we started installing the siding.
When John said he needed help, I went to assist him and we worked together. The temperature of the siding was 130 degrees, so you can tell how hot it was where we were working, but we stuck with it until we got through the first half of a square (half of 10 x 10 foot).
It really looks nice! I'm so glad we went with what we really wanted and didn't compromise.
By adding new vinyl siding, the house will be maintenance-free. (A huge selling-point, if we ever decide to put our place on the market.)
I'll be happy if it's complete by next year at this time. As I said, we have other jobs waiting in the wings. I will show before and after photos here when we get more finished.
We want to re-do our chimney too. (It is now a wooden "chase" which means it's boxed in with T111.) Our plan is to use synthetic stone to match the real field stone that we used on the front of the house. That should be a nice touch. At least we're trying to make improvements.
Note: For many of you who follow this blog, you probably wonder why I'm showing our "siding project." It's not especially exciting, but this blog is a way I show stuff to my daughter (Kelly) who lives in Florida. So the blog includes the fun stuff, and the dull. It's all part of our life.
Permalink Comments off