Someone posted this poem on Facebook and it really hit home for me.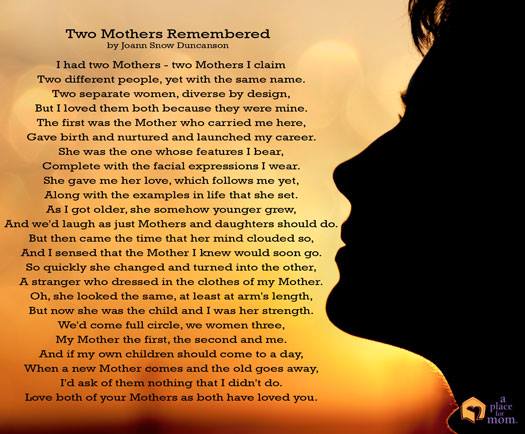 My "first" mother was never very demonstrative with her affection. I don't ever remember an "I love you" from her, but Mother Two said "I love you whenever I saw her. Folks who felt sorry for me because I was caring for a mother with alzheimers didn't understand that during that time, she gave me more of herself and we were actually closer. (Maybe because she truly needed me.)
My mother "two" liked riding on our golf cart to get a milk shake than parking in the shade enjoying what we called a "picnic." She was in awe of flowers and colorful birds. We shared some sweet times!
Surprisingly I miss Mother two more than one. Those years were a "gift".