Saturday, the 15th, we had an appointment to have our high speed internet and HDTV cable installed. To make a long story short, after the installation by two incompetents, we didn't have workable service. The company acknowledged nothing was working and said they'd send a repair person out immediately (Saturday and then again on Sunday they were supposed to send someone). It took until Monday before we got someone to come and look at our situation. When he did, he said it would never work, so we had to be totally re-wired. Two installers showed up Monday afternoon to start the installation. Finally Tuesday things were completed. We had five different service folks and a total of about 15-20 hours of labor but now it's purring. Our reception is better than we'd imagined, and we have 100+ channels.
We have purchased a new HDTV and will be picking it up Friday or Saturday in Bradenton with a stand.
But the most exciting thing is that our high speed wireless is allowing us to use the box we bought from Speednet in Saginaw to receive our Phone by Internet. That means folks calling us at home will reach us here seamlessly. We can also call anyone with no per call expense. It's wonderful to be able call folks in Saginaw just as if we were still in the same locale.
One problem getting a new HDTV is that the TV weighs 88 pounds. Although John is doing fine recovering from his hernia surgery, he still can't lift anything, and I can't manage that much weight. We have the names of a couple handymen who advertised on the bulletin board in the clubhouse. We'll probably try to get them to come over and help us set it up.
John also needs help with the guest toilet. It's not working so he needs to wrestle it around and possibly install a new one. I want him to hire it done. He said he'll see if he can at least diagnose the problem, and then we'll decide.
Tomorrow we'll have been here a week.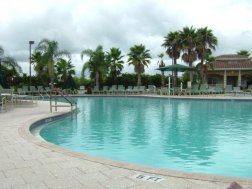 We've been to the pool numerous times but it's always empty. It's been hot, although today was quite comfortable.
When I say empty, I mean EMPTY!!
Monday we had a birthday party in the special needs unit for Mom complete with two cakes and candles (one ice cream cake and one sugar free for the diabetics). We had about 20 folks and Mom felt special.
She's sure not doing well.
Tonight I was there for her during dinner. I fed her and got her to eat more than she would have. Mercedes, the healthcare "companion" I have hired for Mom, is with her from 10:30-1:30 so she helps during lunch time. I will try to be there often for the evening "shift."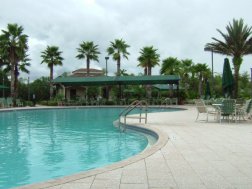 We'll be busy for the next few days. I will have my hair done tomorrow a.m., we'll visit Mom and go to the pool mid-day, and to Rockin' Rondevous tomorrow evening – they'll be having a karaoke evening. Friday we'll be at the pool for a hamburgs-on-the-grill lunch, and we'll try to pick up our TV in the afternoon. Saturday we want to go shopping early and there's a dinner at the Moose.
We still haven't seen our buddy Bob, and we haven't run into Paul and Pat or many of our other close Kings Point friends and I've hardly had time to say "hi" to Loretta, our lovely next door neighbor.
But we're relaxed.