I remember when Hurricane Charley hit Punta Gorda, Florida, in 2004. I was a good friend of Mary Lou Orthey who lived on the Peace River in Punta Gorda. We exchanged emails as the water overflowed the river and created a mess. When the flooding got bad, she wrote that she was sitting in her living room watching the water rise. She said, "My feet are wet. The Peace River is flowing through my living room. Hope it doesn't go any higher."
There were several storms that year that came through Florida. Each one affected her with winds and rain. She finally headed north (to her son's house) to get away while contractors rebuilt her house. Coincidentally yet another late-arriving storm diverted her plane when she was heading back to her Florida home. She really felt the storms had zeroed in on her.
I couldn't help but think of Mary Lou's situation when I heard that our good Florida friends, Sharon & Dave, had driven north to escape the approaching massive Hurricane Irma. I hope it doesn't follow them and they are safe.
I don't know what we'd do if we were in Florida right now. The storm is huge and if it goes down the center of the state, it'll affect both the east and west coast. Folks in Kings Point, Sun City Center are battening down the hatches, hoping that it stays far enough east that Sun City Center is spared.
We're following all the projected storm tracks. My concern is growing.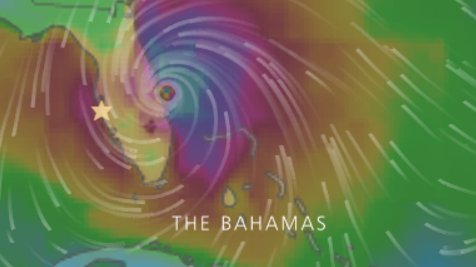 If you look at the above graphic, you can see where the storm is projected to be after midnight Sunday-Monday. Our Sun City Center condo is where the star is located. It won't be a direct hit, but it's undoubtedly going to create a mess. I hope our windows and screened-in lanai withstand the winds which are projected to gust to about 70 miles per hour.
It'll be bad if we do have damage. I'm sure Richard, Bill, Jan, Ron, or any of our other full-time Kings Point friends would look in on the place for us, but if the storm hits Kings Point hard, they'll have their own problems.
Our friends, Guy and Sharrie George, appear to be in a direct-hit zone just south of Daytona Beach. Guy is an entertainer at several outdoor tiki bars/grills/restaurants on Ponce Inlet. They were still open today, so I'm sure he hasn't left yet. Hope they are safe.
==================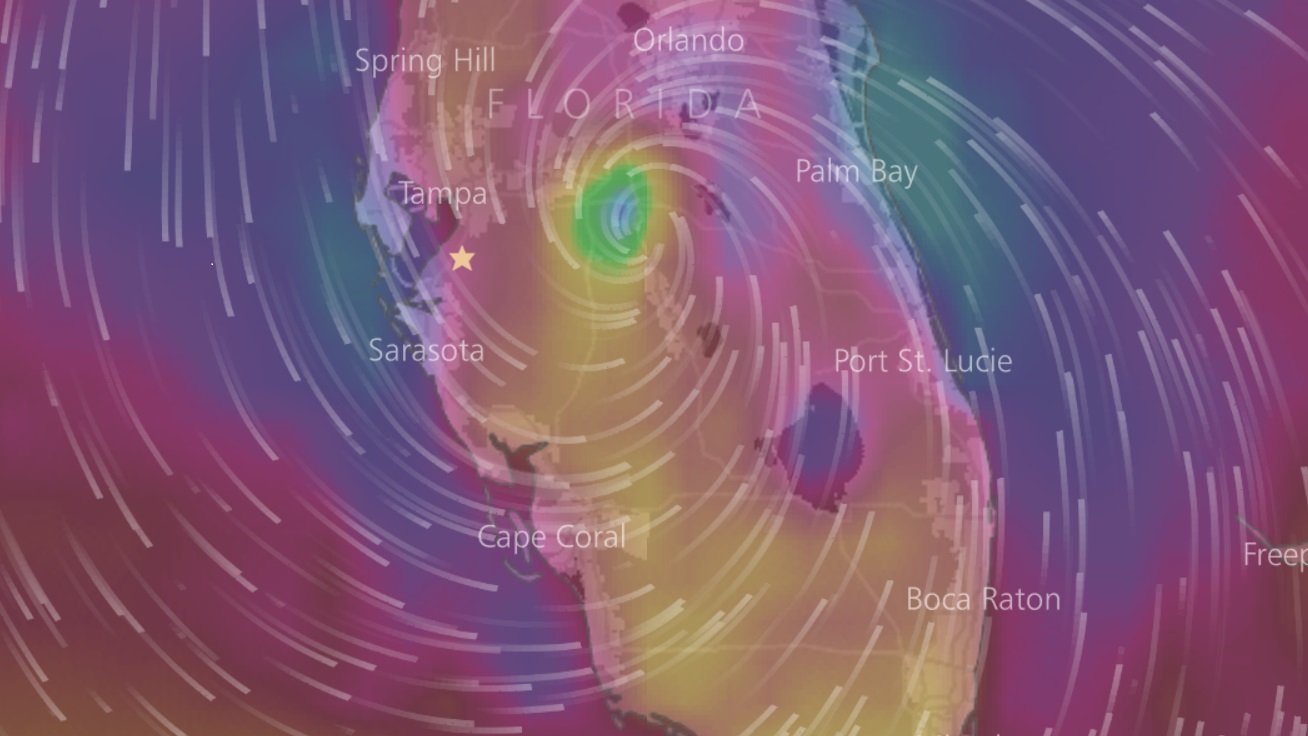 UPDATE –
Now the projected storm's eye will most likely be more westerly. It now appears it'll pass nearly over Sun City Center. It's scary!
You can see the westerly movement has probably changed the impact on Sun City Center and Kings Point.