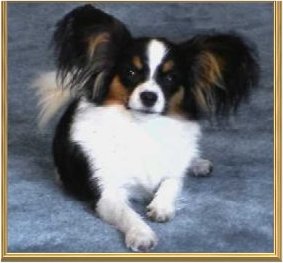 We've been thinking about getting another pet. After our visit with Shelly and Richard, we began considering a kitty, but we've had a tempting opportunity this week to acquire one of two adult female papillions. They were listed on Craigs list so I wrote to the owner.
Evie, one of two little dogs that the owner was trying to place, is shown at the right. She is beautiful and it might have been a wonderful opportunity, but we have talked it over and decided that a dog would really change our care-free life. We are able to travel, to stay with friends, to stay at any motel, and life is easy. It would be complicate our comfortable situation, and we're not sure it's best for us.
Ahhh but it sure was tempting.
Since these are mature dogs, they might have some old habits that will be hard to break. During our married life, we had two sweet paper-trained dogs (Gizmo and Willow), but the new dog would expect to be walked. We have never had to walk a dog. Neither of us is anxious to have to take on that chore.
Actually there were two females. The owner felt Joy would fit us best. We both preferred the looks of Evie because she reminded us more of Willow. (Joy had a darker face without the white accent from the forehead down and around the muzzle.) But we never met them face to face so, until we had really been around them, we couldn't know for sure which was the best.
After a long chat with the owner, we decided that we aren't ready to make the commitment. Maybe we'll kick ourselves, but for now, we decided we're not going to accept the opportunity.
Before the dog would have been placed with us, the owner would have had to come to our house and check it out but a home-check didn't bother us and I'm sure we would have passed no matter what the criteria was.
We'll never know and just hope that we made the right decision.