Most of us love the sandhill cranes that hang around the golf courses here in Kings Point. They are beautiful, majestic birds. Usually there are several "pair" of them. This year we've seen fewer than we did last year.
We have observed one crane who has been alone for the past couple of weeks. Since they are always in pairs we've been concerned.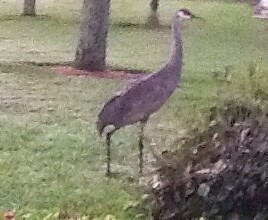 Sadly we now know what happened. The report came from our friend, Doug. He and the others in his horrified golf foursome witnessed a 'gator grab the bird when she got too close to the edge of a pond. The 'gator pulled her under. There was nothing anyone could do to save it.
The surviving mate could be heard crying pitifully. The mournful sound continued for a long while. We still hear him occasionally.
(You'll notice that we refer to the lost sandhill as a "she" but really don't know which of the pair is missing. They look the same.)
On April 6th, our friend, Evie, posted the photo (to the left) and this comment: "He was there in the dark when I first got up. Then he called and called but he's still alone!"
I did read this on the National Wildlife Foundation site, "Sandhill cranes mate for life. When they form a pair bond, it can last for years until one of the cranes dies. After a mate passes away, the surviving crane will seek out a new mate." Let's hope he finds another lady bird to keep him company.
Comments off