I'm a coffee drinker. I drink two huge (14 oz) mugs of coffee (black) every morning. I've always loved hazelnut flavored coffee but unless I get the flavored ground coffee, I not satisfied with the flavor. And the extra cost for ground hazelnut puts it out of my pricepoint. I've tried the liquid hazelnut syrups but they always taste fake and way too sweet. But recently I discovered Folgers Flavors™.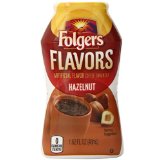 Unfortunately they aren't cheap. Best local price is $3.79 plus tax for a 1.62 oz bottle at Walmart. They are about twice that on Amazon.
I was finally successful finding an unbeatable deal at smucker.com. Yes, I had to buy four bottles (my choice of flavor so I got four hazelnut) and I had to agree to regular delivery, but by doing it that way, I got free shipping and a discount. My total price for the four bottles was $10.80 ($2.70 per bottle), delivered, with no tax!! I placed the order yesterday. It was delivered this a.m.
I have it set up for a four bottle shipment every three months, but that can be changed and the "ship to" address is also changeable. Since the orders are filled so fast, if I find I'm low, I can speed up the delivery.
Sure love this stuff.
Comments off